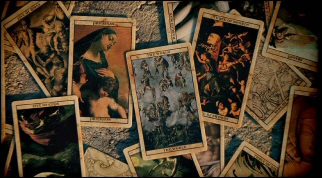 SOUNDTRACK FROM THE HBO ORIGINAL SERIES
MUSIC BY JEFF BEAL
01. Carnivàle End Title (Ben's Theme) ... 1:03 . [1]
02. Dora Mae's Funeral ... 2:02
03. Carnivàle Main Title Theme ... 1:26 . [2]
04. Meet Samson/Ben's Dream ... 1:30
05. Justin At Mr. Chin's (Justin's Theme) ... 4:03
06. His Name Was Michael ... 2:17
07. Storm's Coming ... 1:41
08. Ben Heals the Girl ... 1:58
09. Rita Sue and Jonesy ... 1:46
10. Lodz and Ben ... 2:04
11. The Carnivàle Convoy ... 2:07
12. We Can Be Saved ... 3:12
13. The Mark of the Beast ... 3:00 . [3]
14. The Silent Film ... 1:13 . [4]
15. Fix Up Dora Mae ... 1:16
16. Black Blizzard ... 5:04
17. Ben Heals Kerrigan ... 1:31 . [3]
18. Justin Calls Iris ... 2:05
19. Management's Advice ... 0:56
20. You're the One ... 2:49
21. The Russian Front ... 1:21
22. Babylon ... 4:05 . [5]
23. Ben Searches the Templar Hall ... 3:06 . [3]
24. Sofie Reads the Cards for Ben ... 3:25
25. Lodz and Management Plot ... 1:35
26. Lucky to Have Jonesy (Sofie's Theme) ... 3:19
[1] Lonnigan, Texas version (Not the version used to conclude episodes one and two, but episodes eight through eleven) [2] Composed by Wendy Melvoin and Lisa Coleman [3] From season two [4] An unused cue, presumably from Babylon [5] Contains the hbo.com track "Justin's Vision"
Scans of the packaging: Front/Back , Front Only , Back Only , Interior 1 , Interior 2 , Interior Close-up , Disc Close-up , Notes 1 & 2 , Notes 3 & 4 , Notes 5 & 6 , Notes Close-up
You can purchase the soundtrack from Amazon.com, Amazon.ca, or Amazon.co.uk.
If the soundtrack is out of stock, you can download the album in MP3 format by clicking HERE (Size 95.6 mb). Includes the additional tracks listed to the right.